GiveMeApps
Reviews
---
Subway Surf : Train Surfers Android App Review
Dec 19th 2017 at 09:20am by GiveMeApps
Every once in a while there is a game released which is considered a game changer! Those game changers influence just about every release on the market thereafter in some way. For mobile, Temple Run is one of those games and we actually reviewed it when it was first released. Subway Surf : Train Surfers picks up where it left off. Instead of running through some unnamed jungle, here you get to hop on trains, dodge obstacles and even fly! To top it off, you get 3D graphics. Mobile has come a long way indeed.
See Also: Run Away Kid (Android)
In Subway Surf, your job is to avoid bumping into objects and getting caught by the eager security guard. Like its predecessor, it is an endless runner meaning the game continues without end. In the process, you get to collect coins, keys and powerups.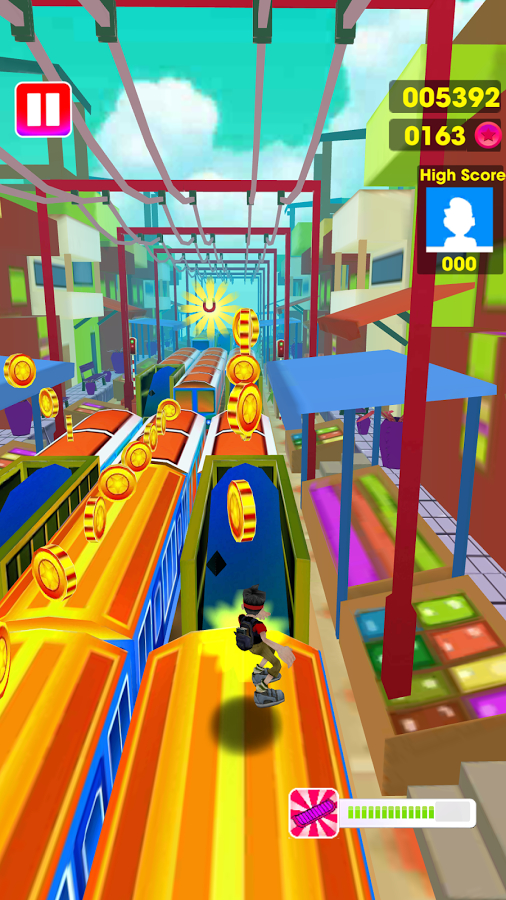 Collecting Coins And Powerups But Don't Hit Any Obstacles
Typical obstacles include walls, the front of train cars and track hurdles. Swiping up lets you jump over hurdles. Some are hurdles are placed high, swipe down to duck beneath those. There are generally a set of three track lanes. You can swipe side to side to switch between those lanes.
See Also: Temple Run (Android)
The fun really begins once you start collecting powerups. There are many. There is a magic box which gives you a secret prize at the end of any session. Magnets let you attract coins from all over. One even lets you fly high above the tracks and collect coins and keys from a top view. Like the ground below you can switch between lanes to collect more coins, keys and powerups. There are other ways you can collect coins and keys. If you watch a video daily as provided, you can get 3 keys. Rate the game 5 stars and you can get 20 keys. You can also log in for more goodies.
Sell Apps And Keep 100% Of Your Profits!
The only thing we felt missing was a comprehensive tutorial, but even without it, game play is fairly easy to pick up, especially if you have played games with similar themes. Because the game is so addictive and we were impressed with how smooth the graphics were and the variety of power ups, we were comfortable rating this high and recommending it to anyone who would listen. It is illegal and dangerous to surf railroad cars in real life, Subway Surf lets you lets you live out this fantasy without the risk!
Like This Review? Chat About It And More In Our GiveMeApps Community!