GiveMeApps
Reviews
---
Seudos Android App Review
Jul 21st 2016 at 06:19pm by Harold Everton
As if there weren't enough social networks in existence, another one comes online... and you can't wait! Look, let's be honest. If you're older than 25, you remember MySpace, you remember Hi-5 and probably even Community Connect. If you've been plugged in then you probably had an account on all of them.
See Also: Instafy (iOS)
The difference between those defunct social hubs and the ones of today is the kings of hill are mature in their featureset and amenties. Anyone trying to break in now needs to have something comparable to attract users. Suedos from Nutrition Source attempts to do just that.
See Also: Rudetoons Text (Android)
Suedos like Facebook allows you to post status updates. Even the layout is familiar. Icons on your newsfeed allow you to post, upload pics and check-in. If you have added a lot of friends, then you will also see their posts on your newsfeed. Likewise, you can go about adding friends, messaging friends and viewing notifications with dedicated icons on the top of the screen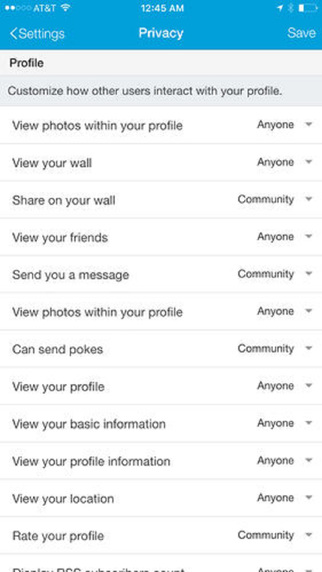 Suedos Even Has Extensive Privacy Functionality!
What makes Suedos stand out is its maturity. Clicking on the menu tab reveals Video Channels, Settings, Memberships, Forums, Pages, a Marketplace, Blogs, Polls, Quizzes, Music, Events, Videos, Photos, Members, Messages, Friends, and a Business Directory in that order!
See Also: Tweet Memes (iPhone/iPad)
What does all of this mean? Want to create Fan Pages? You can do that. How about list your business and have a dedicated page for it? Yep, you can do that as well. Want to create polls and have your freinds answer it for feedback? You can do that as well. The Marketplace is also a standout. You can actually buy and sell items without having to leave the network. Take that eBay. Having forums available will prove to be vital in the expansion of Seudos because in this type of scenario, like "groups" on other networks, friends who have no connection can communicate.
Sell Apps And Keep 100% Of Your Profits!
We've reviewed a host of social media apps and were a bit skeptical when trying this one out, but its feature set is strong and familiarity will make other skeptics more open to try it out. We admit that in 2016, it will be hard for any network to take on the likes of Facebook, but if you're plugged in, you're more than likely active on other social networks and dating sites, so what's wrong with one more?
Like This Review? Chat About It And More In Our GiveMeApps Community!