GiveMeApps
Reviews
---
Pharaoh's Golden Way Deluxe iPhone/iPad App Review
Feb 22nd 2016 at 12:25am by GiveMeApps
Last year, my girflriend introduced me to her Casino obsession. "Atlantic City, here we come!" was a common phrase heard at least once a month. After going there a few times, we started visiting local casinos in the New York City metro area.
See Also: Poker Party House (iOS)
Each visit had the same thing in common, spending. You might win, but you have a higher chances of losing. That's just the way it is. Well, with Pharaoh's Golden Deluxe for the iPhone and iPad, you have a higher chance of winning, with the complete casino experience!
Once you install Pharaoh's Golden Deluxe, you immediately get the casino vibe. Here you can play Slots, Roulette, Blackjack and Poker all under one roof. Slots is the main feature here. You can play up to 5 reels and 30 lines, way more than you can in a real casino.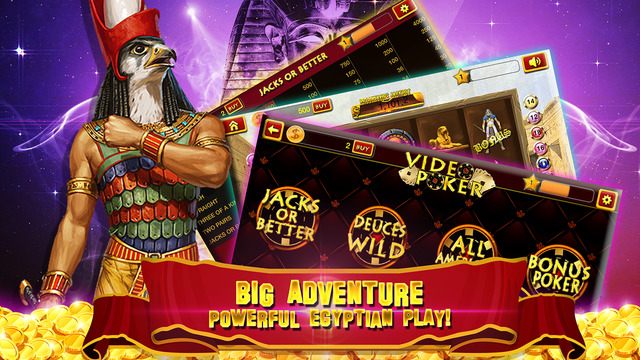 Pharaoh's Golden Deluxe Brings The Casion To You
The graphics are excellent. You can take advantage of Auto Spin (with five being the minimum). You can stop the machine mid-spin, and you start off with $95,000 in coins (if only it were real money). The wins were great. When we say you have a higher chance, we mean it. You also get several environment settings to keep things fresh.
The other games are Video Poker, Roulette and Blackjack. If you are a card connoisseur, then you are in luck. You can make bets, stand, draw and more. Again, here the wins are pretty high. Each game, but particularly the slots are addicitive.
See Also: Casino Jack (iOS)
If you are itching to get to the casino but don't have the funds, you can get that quick fix with Pharaoh's Golden Deluxe. The app promises free updates and is getting good reviews all around. We have to add that we've reviewed many casino apps which have annoying ads that pop up too frequently, make you wait a day to refill on coins and complicate things with cluttered interfaces. None of that can be found here, which makes playing these games that much more enjoyable.
Like This App Review? Chat About It And More In Our App Community!