GiveMeApps
Reviews
---
Image To Text (OCR Scanner) Android App Review
Sep 11th 2016 at 04:19pm by Harold Everton
It's unbelievable what you can do with technology nowadays. If I told you ten years ago that in a few years, you would be able to use your mobile device to take a picture of a page in a book, convert it to editable text and then copy and paste it in the document of your choosing, would you believe me? How about if the conversion was over 90% accurate and could be translated into over 90 languages. You would probably tell me to see a doctor. Well, Image To Text (OCR Scanner) can do just that.
See Also: Chrome Reader (Android)
Now we've reviewed OCR scanners before. OCR stands for Optical Character Recognition. Literally using a camera, it does its best job of recognizing the text in any picture you take and then converts it to what it thinks it sees. Of the few that we have reviewed, our opinion was always the same - that the technology was nice, but had a long way to go. This app changed our opinion.
The interface of the app is fairly straight forward. Having a comprehensive tutorial would be a plus, but the interface's simplicity makes not having one less of an issue. On the top of the screen you have one button for Capture Picture and another for Choose Picture. So you have the option of taking a picture of text or choosing an existing picture in your library.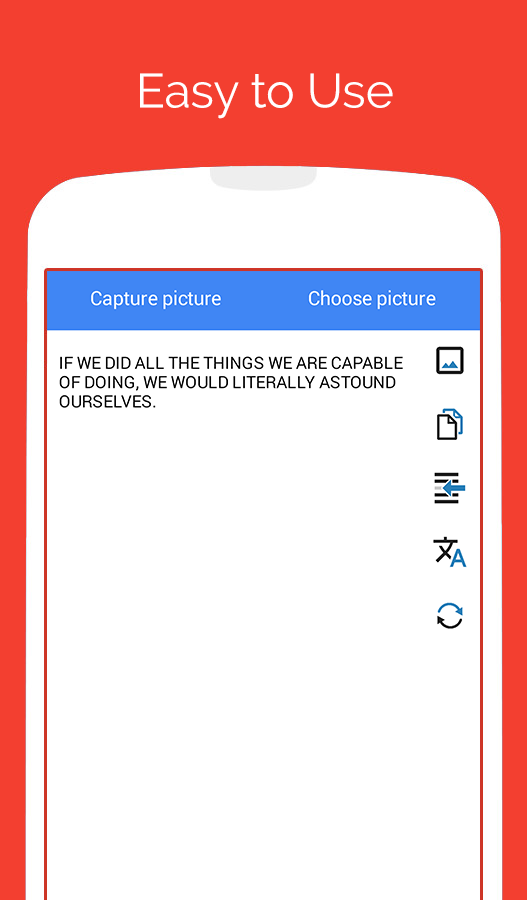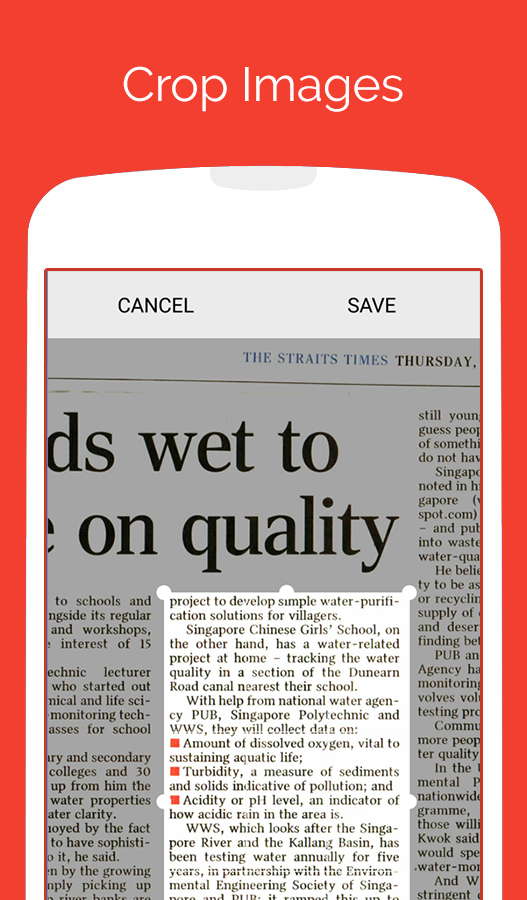 You can even crop images and translate to 90+ languages!

We first started off using the Capture Picture option. We literally took pics of everything we could find - posters, chapters in textbooks, engraving on statue and put it to the test. You can see in our video review that after some processing (very short might we add) that the results were always 100% accurate (more than the developer claims). For this we were stunned. With other OCR apps, the processing times were too long to bare and we we always less than impressed with the results.
See Also: Get Your App In Front Of Millions!
With the Choose Picture option, we went on our social media accounts and downloaded some memes. The results were the same - always accurate. In fairness however, each time we processed text, the backgrounds were not so busy (i.e. lots of pictures, textures or patterns) which may have had something to do with the success rate. I would like to assume otherwise however because with older text books and less than optimal lighting, the app always worked.
See Also: OCR Instantly Pro (Android)
Now things get better when you add the ability to translate. I remember the old days of Google Translate. The days where students in their High School Spanish classes would try to blaze through homework by dropping their english answers for translation with abysmal outcomes. The translator in Image To Text is better than average but does a great job. We took the text from our Meme and translated it to languages we knew (Spanish, French and Italian) and were impressed with the results. We also did Mandarain, Arabic and German and the translations happened instantly.
Sell Apps And Keep 100% Of Your Profits!
You can also crop pics which is useful to get rid of noise and zero in on the text that you wish to work with. The only bad thing (and we really had to nitpick to find bad with this one) were the ads. They aren't that obtrusive but are still there nonetheless. When you consider all that the app does for free, you really can't complain. You can remove the ads however with an In-App Purchase, so that takes care of that. We thus gave this app 4 1/2 stars, it was hard to not rate this any less than 5 but it certainly is closer to 5 than 4 1/2. We can imagine this tool getting a lot of mileage from both students and professionals.
Like This Article? Chat About It And More In Our GiveMeApps Community!