GiveMeApps
Reviews
---
Glyffy iPhone/iPad App Review
Jan 24th 2017 at 02:21pm by GiveMeApps
Memes without a doubt are a significant fixture in internet culture. Used to provoke thoughts, mock or underscore a particular emotion, it used to take a scientist in a lab coat armed with a laptop to create them. While this is an exaggeration, you were limited to online meme generators, meme apps based in existing overused photos (Jeremy Lin anyone?) and had to exercise patience in positioning the text over the photo. Well, this is no longer an issue.
See Also: Tweet Memes (iPhone/iPad)
If you know your way around Instagram and want to create more original meme content, then Glyffy might be what you're looking for. Based in iMessage for iOS, the app centers around the idea of "Meme Selfies". Simply snap a photo of yourself and then type in the overlaying text. Done. It really is that simple. Once that's done you can text the meme to any of your contacts or share it on the Glyffy social network.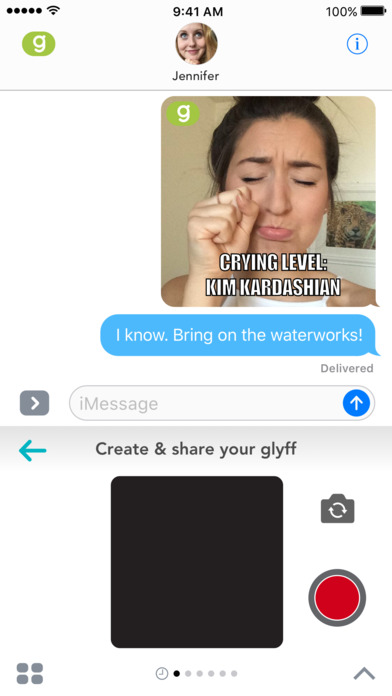 Glyffy is a Meme Selfie Generator & Social Network Rolled Into One
The potential of the app is only limited by the boundaries of your creativity. Snap multiple facial expressions and write whatever text you want. Be funny, be serious. Be whatever. If you're looking for ideas, you can view an Instagram styled newsfeed which will display your "Glyffies" along with ones that others have created. If you see something you like, you can favorite it and comment on it.
See Also: Giddyology (iPhone/iPad)
You can even take it a step further and view someone's profile by clicking on their profile picture (the same way you would on Instagram). This will allow you to see all of the memes they have created. From there you can request them and follow them. Someone getting a bit annoying? You can block them as well. The interface of the social network side of the app was unquestionably inspired by Instagram in terms of layout. It is attractive, modern in appearance and easy to Navigate.
Sell Apps And Keep 100% Of Your Profits!
Setting up the app to work was a bit of a pain but this has more to do with iOS 10. You have to first click on the four grey dots in your iMessage text window, click on Manage, Store and then toggle Glyffy. These steps should be added to the tutorial which is otherwise concise. Once you get past this however, using the app is a breeze. We won't be uninstalling this. Memes were once trendy but are as popular as and almost identical in use to political cartoons. Why not get a piece of the action?
Like This App Review? Chat About It And More In Our GiveMeApps Community!