GiveMeApps
Reviews
---
Clotify 2.0 Android App Review
Nov 20th 2016 at 10:08am by Harold Everton
I remember the first time I saw outfit ideas presented on social media. Someone actually took the time to lay out clothing in a professional way along with footwear and accessories. I was floored. More importantly, the layout made me wanted to visit the website of the brand and make the purchase. I still own the sunglasses and Stacy Adams shoes. You can now find these ideas on pretty much every social media site, but you may have to sift through plenty of non-fashion posts or follow fashionistas to see it. What if there was a social network just for fashion? Well, Clotify is it. Will you become a Clotifier? Let's find out.
See Also: Jack Threads (iOS)
Clotify is a fashion specific Instagram-styled platform which centers around "outfits". Photos are laid out in a grid-like fashion. You can follow users as well as like and comment on posts. The Instagram similarity ends there. Each post (outfit) can contain up to 5 pictures and will display like a collage when browsing through your newsfeed (where you would see the posts of other users). Clicking on one of these said posts will display both the collage and the individual photos for closer inspection. A typical scenario would involve you browsing your feed, clicking on an outfit collage and then viewing the individual components of that outfit.
See Also: Grow Social (Android)
Navigating the app is straightforward. There are five icons on the bottom of the display which help you get around. The home button brings up your wall (newsfeed). Search lets you search people, brands and looks. Under people you can further search for "Famous People" and "Most Popular Clotifiers" (users). "Brands" lets you search for clothing manufacturer. There are dozens. H&M, Zara and Sugarfree and other major brands make appearances. "Look" will display recent outfits by hashtag.
"Wardrobe" is where the magic happens. It is here where you connect your fashion with the Clotify world. Share your look lets you take pics on the fly for quick upload. Add Cloth lets you upload outfit components. You can use the device camera to snap a picture of an article of clothing, or select existing images from your gallery. Once completed, you can then crop the photo or remove the background. Removing the background is a nice touch. After this, you can add an item description with hashtags, and other pertinent information like the brand name, the item's color, the category (outwear, accessories, etc), and the condition. There are fields for each of the attributes described.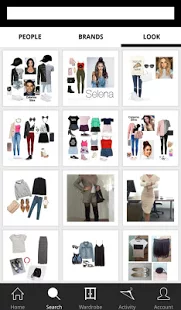 Clotify Lets You Put Your Wardrobe Together In the Cloud!
We took pictures from our gallery and need to point out that ours looked professional because we took a lot of our photos using the gray backdrop in our office. As such, we did not need to utilize the "remove background" feature. As a test however, we found it to work reasonably well. Just be sure to have adequate lighting as shadows and uneven lighting will lessen the chances that the feature works as advertised.
The "Create Outfit" option allows you to drag photos from cloth list to come up with outfit ideas. For us, this is the strongest feature of the app. You literally can catalog all of your clothes and swap items to come up with the perfect outfit for any occasion.
Sell Apps And Keep 100% Of Your Profits!
Clotify 2.0 is in its infancy, so its userbase is small but growing. Its unqiue wardrobe feature is what sets it apart from other social networks. Far from just another "look at me" network, Clotify is a fashion-specific platform which brings value to both the fashionista inside us all (the end user) and those who have an appreciation for style.
Like This Review? Chat About It And More In Our GiveMeApps Community!