GiveMeApps
Reviews
---
ShreeNathji Android App Review
Feb 22nd 2012 at 07:04pm by Brooklyn Midas
In today's age of computers and mobiles, at the most devotees could have wallpapers and images of Lord Shreenathji in one of his many forms. Now an amazing application for Windows, Mac and Android devices help you have a detailed "darshan" of Thakurji Shreenathji or Shreeji, an application that also works as live wallpaper with mellifluous music that soothes and evokes religious feelings in your mind.
See Also: Verse-A-Day (iOS)
All those Hindu devotees including senior citizens who find it difficult to undertake a pilgrimage to Shreenathji-Nathdwara can now have a daily darshan or their favourite God right in their homes. The application is free, available for Android devices, Mac and Windows OS, and can be downloaded from here.
Feel The Energy!
This fairly new application is compatible various mobile and tablet devices. ShreeNathji is currently rated 5 out of 5 on the Android market. It is also a free app, not bad for an app that provides a feel good lifestyle which many other apps lack.
See Also: Add Mood (iOS)
This Application requires the installation of Adobe AIR 2.6, Please make sure Adobe AIR is installed. You can download Adobe AIR here. This application requires Android version 2.2 and higher.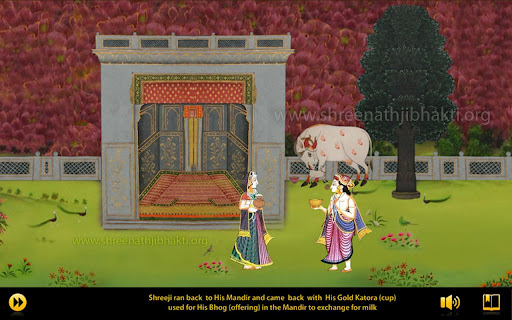 Cleanse your spirit with ShreeNathji
Some of the compatible devices are as follows: Samsung Galaxy Note, Samsung Galaxy S2, Samsung Galaxy Tab, Samsung Galaxy S II, Samsung Galaxy Nexus, LG Optimus, LG Revolution, Sony Ericsson Xperia and many more. Below are a bunch of features that can be recognized in the app:
Govardhan Leela by Shree Krishna

Apperance of Alokik Bhuja

Ghumar cow feeding Shreeji

Shreeji appering at Naro's house

ShreeNathji - Vallabhacharaya Bhent

KrishnRadha Merging in to ShreeNathji

Mangla Darshan

Shringar Darshan

Bird voices of Peacock, Maina, Koel with Bansuri Flute Music

Beautiful Live Animated wallpaper with flowers and garden of Braj - Vrindavan




Sell Apps And Keep 100% Of Your Profits!
Visit the Shreeji website here for more information and cleanse yourself today.
Like This Review? Chat About It And More In Our GiveMeApps Community!