GiveMeApps
Reviews
---
Flirtomatic Android App Review
Mar 3rd 2011 at 09:53am by Harold Everton
In an already saturated landscape. Flirtomatic takes on an area which has been overdone - Online Dating. We have all seen our share of online dating sites, and can probably name at least ten off the top of our head. What makes Flirtomatic unique is that it was designed for the mobile market from the ground up, making for a very convenient and intuitive experience.
See Also: Mixed Match (Android)
What we liked about Flirtomatic was the interface. The app gets rid of the fluff and lets you see what you want to see when perusing through profiles - Pics, Age, and Location! You engage users by 'flirting' with them.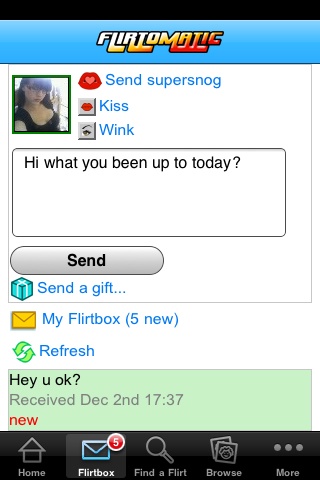 Flirtomatic lets you engage your crushes with actual flirting
Anything else is saved for after your fancy shows mutual interest (i.e. they flirt back). Once you get the green light, you're then able to view their entire profile, trade photos, send virtual gifts, and engage in conversation. This makes Firtomatic a bit unique in both concept and practice.
Sell Apps And Keep 100% Of Your Profits!
You can search for members using the usual flair - Town, Age, Hair Color, etc. Flirtomatic is a Multi-Platform app. Supported devices include iPhone, Android, Blackberry and Symbian. There is also an accompanying website for computer users. We liked Flirtomatic. It's quick, easy, and fun to use. We only wish our staff downloaded it before Valentine's Day. ;)
Like This Review? Chat About It And More In Our GiveMeApps Community!