GiveMeApps
Reviews
---
DayGram iPhone/iPad App Review
Jan 30th 2016 at 05:16pm by Harold Everton
It is good practice to write a journal. Whether you're a regular 9-5er, or a corporate slinger pulling in 80 hour weeks, academic research in academia consistently supports that journaling is good practice for both business and health. Not only is it good for helping to clarify some thoughts, but great for reflective practice. How did you get to where you are today? Where were you struggling six months ago? What did you do at 2:30 two weeks ago? A journal can help with that.
See Also: Dream A Bit (iOS)

DayGram - One Line A Day Diary by SaltyCrackers has created a journal/diary app for iOS that is not only attractive, but organizes your daily actvities into a nice streamlined pile of truncated (can be turned off) sentenes that can provide a glimpse into what was.
Once DayGram is downloaded, you are prompted to start typing away. By clicking at the bottom of the screen the journal entry for today is automatically opened. In keeping with the title of the app, we typed in just one line. You can type to your heart's content however. Once you are done, click "Done" and your item for today is saved. We wanted to fill our journal up, so clicked on dots above the bottom one one the main screen and filled up items for the past week.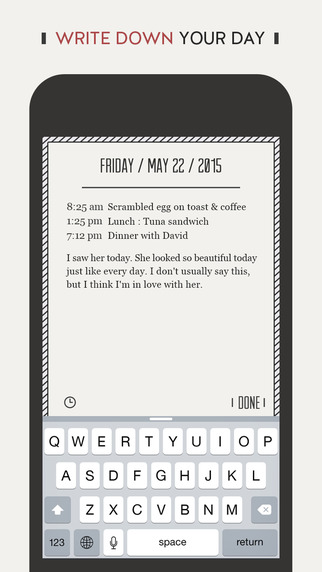 DayGram lets you timestamp your thoughts and activities
After doing this, our screen looked like a nice neat pile of dates with once sentence describing what took place on that day. This is because we chose to truncate text in the settings menu (default). You can adjust this setting. On the subject of the settings menu, you can also adjust font size, timeline preview, set a passcode, set the app to back up, sync to icloud and even export. Controls on the main screen allow you to select a different month. By clicking on the "+" icon on the bottom of the screen, you can open up a new journal entry. The clock icon on the journal entry pages allows you to timestamp before you type.
Sell Apps And Keep 100% Of Your Profits! Join GiveMeApps Today!
One of DayGram's strong selling points is its clean interface and it being extremely easy to use. While some may squawk at the .99 asking price, it is important to note that the app is feature-laden and has no ads whatsoever, making it even more of a joy to use. If you're looking to keep a neat diary and would prefer to do it in a light uncomplicated app, the DayGram would make for a serious contender.
Like This Article? Chat About It And More In The GiveMeApps Community!