GiveMeApps
Reviews
---
Asciid Android App Review
Sep 26th 2015 at 01:24pm by GiveMeApps
If you're in need of your retro gaming fix and want that in the order of dozens of challenging levels, surprises and "what in the worlds?", along with 8 bit styled graphics, SID inspired sound and nail biting close calls, ASCIID might fit the bill. Immediately getting our attention because of the ASCII reference (for those of you who know anything about character sets, ancient computer standards, symbols and keyboard shortcuts), it's simple objective and interesting game play featured in an online preview made us want to pick this up.
Which Character Are You?
The premise behind ASCIID is to get your character to get the keys and open the door. Keys are placed on either side of a horizontal plane. One side is the light (white), the other side is the dark (black). The first couple of levels serve as a tutorial with you simply jumping on either side to get the keys. When things pick up in subsequent levels, you're faced with jumping over spikes, avoiding wrecking balls, floaters and other challenges.
The game features two modes. The first, "Buttons" gives you the feeling of using a controller. Buttons are laid out for moving left, right, switching sides (dark to light and vice versa) and jumping. In "Swipe" mode, you get to move more intuitively. You can swipe from dark to light, jump by pressing one side of the screen and move left to right by pressing the other. We liked Buttons mode the most as everything is as clear as day. This will be the mode most appropriate mode for beginners.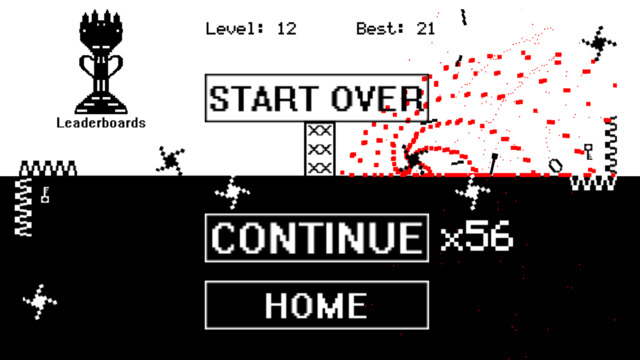 Hit an obstacle and blood will spatter everywhere | ASCIID for iOS & Android
Verdict
ASCIID is challenging without question. The action picks up by the third level with wrecking balls and ninja stars flying all over the place. You'll need to be quick on your feet and pay attention to all of the objects on the screen. It's not so much about getting the key and opening the door, but avoiding all of the obstacles that can and will slice you in half, getting blood all over the screen. Though we didn't get as far in our initial review, after the 50 "campaign levels", there is a New Game+ mode that gives randomly generated challenges which will keep you busy even longer. We enjoyed ASCIID a lot. It's probably one of the better retro themed games that we've seen in sometime with unique gameplay, something that doesn't appear too often after 40+ years of video game design. ASCIID is available for iOS and Android.